Features of MACHINEPRO
Complete after-sales service with integrated in-house manufacturing
We can provide integrated in-house manufacturing ? from specification meetings to installation ? for a wide variety of facilities (e.g., automatic assembly lines, robot transfer devices, press fitting machines, welding machines, assembly machines, washing machines, leak machines, inspection and measurement machines, and cutting machines) to flexibly respond to your needs. We continue to manufacture with a strong will to finish everything to the end as our highest priority in our after-sales service for you regardless of whether you are in or outside of Japan.
We also handle facilities for overseas
We have been exporting facilities to more than 10 countries around the world, mainly the United States, since our establishment. Exports account for more than 50% of the machines we manufacture. Why is that possible? That is because we have excellent engineers who can manage each process of the design (mechanical and electrical), processing, assembly, control, trial runs and adjustment with an understanding of overseas specifications.
MACHINEPRO CO., LTD.'s 100%-Owned Chinese Subsidiary
We have established and run a local subsidiary in Shanghai. We have secured excellent engineers and are giving them the technologies and knowledge necessary for mechanical design. In addition, we are training engineers to take charge of the next generation in China by giving them experience. At the same time, we are aiming to strengthen the structure there under mutual cooperation. Moreover, we have opened a processing factory and assembly factory with a site area of 2,000 square meters in the outskirts of Shanghai to handle work from design to manufacture. We have recruited local members of staff to work there. With this, we have established design and manufacturing lines in China to proactively expand our business there.
Company Overview
Name
MACHINEPRO CO., LTD.
Location

Head Office / Factory

56 Kokiredo, Nishiazai-cho, Nishio-shi, Aichi, 445-0004, JAPAN

TEL:

0563-65-0125

FAX:

0563-65-0126

Date of Establishment
September 10, 2002
Capital
10 million yen
President
Masaru Ieda
Number of Employees
44
Site Area
Approx. 4,500m2
Banks

Okazaki Branch of MUFG Bank, Ltd.
Fukuoka Branch of THE OKAZAKI SHINKIN BANK

Business Areas
Design, manufacturing and sale of various specialized machines and jigs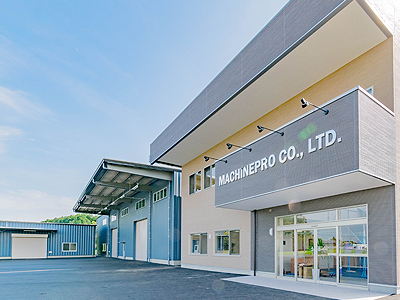 If coming by public transportation:

If coming by JR:
It is approximately 15 minutes by taxi after getting off at Okazaki Station on the JR Tokaido Main Line
If coming by Nagoya Railroad:
It is approximately 10 minutes by taxi after getting off at Sakurai Station on the Meitetsu Nishio Line
Organization Chart
MACHINEPRO CO., LTD.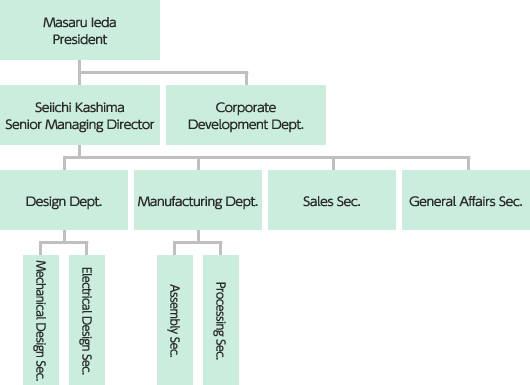 Design Dept.

| | |
| --- | --- |
| Mechanical Design Sec. | 6 employees |
| Electrical Design Sec. | 5 employees |

Manufacturing Dept.

| | |
| --- | --- |
| Assembly Sec. | 10 employees |
| Processing Sec. | 13 employees |

Corporate Development Dept.
Sales Sec.
General Affairs Sec.

| | |
| --- | --- |
| General Affairs | 6 employees |
| Accounting | 1 employees |

Total
Associated Company
MACHINEPRO (SHANGHAI) Co., Ltd.
Head Office / Factory

Inside the Factory

Assembly Area

Processing Area

Welding Area

Measuring Room

Materials Room

No. 2 Factory
Name
MACHINEPRO (SHANGHAI) Co., Ltd.
Locations

Head Office / Factory
1925-28 Chengliuzhong Road, Jiading District, Shanghai

TEL:

+86-21-5990-3570

FAX:

+86-21-5990-3297

No. 2 Factory
615-10 Fengdeng Road, Jiading District, Shanghai

TEL:

+86-21-5990-7470

FAX:

+86-21-5990-7473

Date of Establishment
February 6, 2004
Capital
700,000 dollars
Representative
Masaru Ieda
Number of Employees
90
Site Area
Head Office / Factory(2,300m2)
Banks

Industrial and Commercial Bank of China Limited
Shanghai Branch of MUFG Bank, Ltd.

Business Areas
Design, manufacturing and sale of various specialized machines and jigs
Head Office / Factory

No. 2 Factory
Company History
September 2002
MACHINEPRO Co., Ltd. (Head Office: Miyaji-cho, Anjo-shi, Aichi / Factory: Utochaya-cho, Anjo-shi, Aichi) established
April 2003
New office completed with the head office functions transferred and integrated into it (Utochaya-cho, Anjo-shi, Aichi)
February 2004
MACHINEPRO (SHANGHAI) Co., Ltd. established in Shanghai, China
May 2007
Head office and factory relocated due to an expansion in size (Imaike-cho, Anjo-shi, Aichi)
September 2017
New head office and factory constructed and relocated due to an expansion in size (Nishiazai-cho, Nishio-shi, Aichi)
Company name changed to MACHINEPRO Co., Ltd.
December 2019
Certified as a 【Try Hard Manufacturing Enterprise in NISHIO】